The United States honors November as National Adoption Awareness Month—a time for adoptive families and their communities to celebrate the beautiful gift of adoption. Adoption can sometimes be a hard concept for children to understand, so November is a good month to remind them that we are all adopted sons and daughters of God. God loves us so much that He dreamed about us long before He put us into existence, just like adoptive parents dream about their future children.
We have developed a list of picture books, novels, and movies to help spark conversations in your homeschool, around the family dinner table, or during family movie night this month. Here are our top eight book and movie picks for Adoption Awareness Month:
 1. God Found Us You by Lisa Tawn Bergren
In this sweet picture book, a little fox asks his mom about his adoption. The mom explains how she waited patiently as she prayed to God to send her little son quickly. While all the other mothers had their children, she waited and knew that God was sending her someone very special.
2. The Red Thread: An Adoption Fairy Tale by Grace Lin
The king and queen of a fairy-tale land feel a pain in their hearts. When a peddler's magic spectacles reveal a red thread, they feel they must follow the thread and see where it leads.
This thread eventually leads them to a child whom they bring into their family with joy. Imaginative, rather than didactic, this charming story beautifully reminds adopted children of how their parents longed for them before they even met. When reading this story with your young children, remind them how much you and your spouse longed for their arrival like the king and queen in the story.
3. Over the Moon: An Adoption Tale by Karen Katz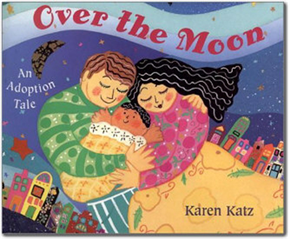 Everyone—Mommy, Daddy, Grandma Bernice, and even the Cherry Man—is excited for the new baby! In this story about international adoption, Mommy and Daddy travel to another land to get their baby girl, bringing everything they need for the new baby with them.
Unlike other adoption stories, this delightful picture book skips right over the parents' struggle to have a child and instead focuses on the parents and their community who are so excited to meet the baby girl they have been dreaming about for a long time. Remind your children that every baby's arrival is a special gift from God.
4. Silas Marner by George Eliot
Older students will enjoy this classic tale of miserly old weaver Silas Marner and how he learns that human beings are more precious than all the gold in the world. After a scandal threatens to destroy his reputation and his livelihood, Silas Marner, a misunderstood, quiet weaver, leaves his hometown of Lantern Yard and moves to Raveloe.
There, he only becomes more isolated and depressed and loses his once-strong faith in God. The miraculous appearance of a little girl on his doorstep changes Silas' life and ambitions forever. After learning that the girl's rightful family does not want her, Silas adopts her and treasures her as his own daughter. Silas Marner is a classic children's story about the gift of children and the need for family.
Download our free discussion guide here.
5. The Secret Garden by Frances Hodgson Burnett
Upon the death of her parents, sick and sullen Mary Lennox leaves her home in India to live with her uncle in England in his capacious mansion. With nothing to do in the dreary house, Mary spends her time outdoors and soon discovers a secret garden which has been shut up for years.
Mary makes new friends and they gradually transform the garden into a place of beauty as they themselves are transformed in virtue. A great read-aloud for the whole family, The Secret Garden is a classic piece of children's literature which highlights the joy of marveling in the beauty of God's creation.
Download our free discussion guide here.
6. The Odd Life of Timothy Green (2012)
In this movie the whole family will enjoy, young couple Jim and Cindy Green long to be parents, but doctors tell them they are unable to have children. After they hear the devastating news, they spend an evening dreaming about their child and bury a list of their hopes of a family in their back garden.
When a storm brings a boy named Timothy into their lives, the Greens begin to realize how one life can change so many others. The Green's experience with Timothy prepares them to open their hearts to adoption at the end of the film. The Odd Life of Timothy Green is a charming story about family life, love, and adoption.
Download our free discussion guide here.
7. The Blind Side (2009)
Based on true events, The Blind Side is a story not only about adoption, but also about compassion, family life, the power of a second chance, and caring for neighbors in need.
When the Tuohys offer troubled teenager, Michael Oher, a place to sleep on a cold, November night, little do they realize how much their lives will change. The Tuohys hope to give Michael a family and help him be a successful football player, but as time goes on, Michael also helps the Tuohys understand the value of possessions, the meaning of gratitude, and the love of family.
Download our free discussion guide here.
 8. Penny Serenade (1941)
This black and white classic film starring Cary Grant and Irene Dunne shows how the loving act of adoption not only changes life for the child, but also for the couple. After a whirlwind romance and trials early in their marriage, Julie and Roger Adams are ready to settle down and have a family.
When Julie finds she cannot have children after an accident, she is heartbroken. Finally, Applejack, a family friend, suggests that they try adoption. When they visit an orphanage, they fall in love with a very young baby girl and are allowed to take her home. Unlike other adoption stories, Penny Serenade ends in family tragedy.
But Julie and Roger are able to pick themselves up and open their hearts to another child that God sends them, even in the midst of their terrible grief. Penny Serenade is a sweet story about a family being open to the gift of life, with all its challenges, joys, and heartbreak.
Download our free discussion guide here.
What are some of your favorite books and movies on adoption?
Mary Kizior is the Product Development and Marketing Manager for the Culture of Life Studies Program. Her work has appeared on LifeSiteNews.com, Christ Is Our Hope magazine, Celebrate Life Magazine, Defend Life magazine, the Peanut Butter and Grace blog, and other blogs.