How Will You Build the Culture of Life in November?
Wear Pro-Life Gear
Looking for an easy way to show your support for life while looking stylish and keeping warm? Try one of our hoodies!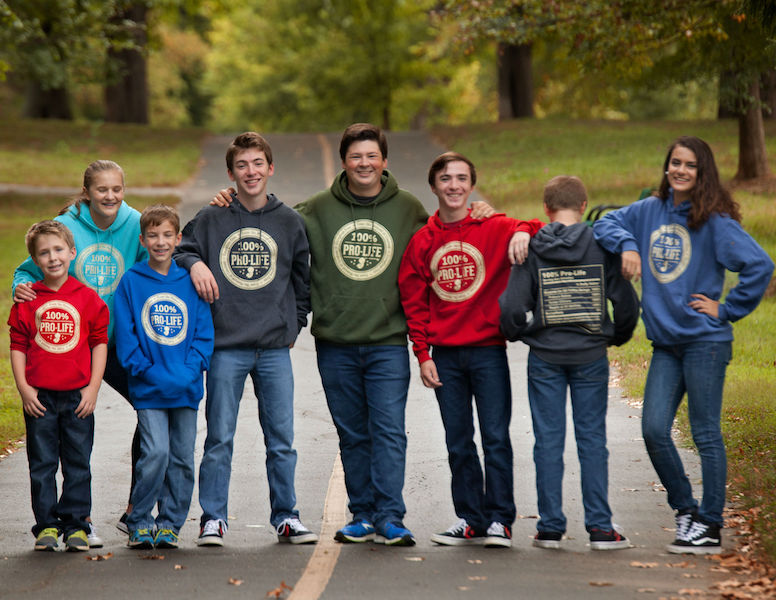 November 5:
The Feast of Elizabeth and Zechariah
This feast day reminds us to be persistent in prayer. John the Baptist's parents prayed for a very long time for him, and when John was born, Zechariah, who had been rendered mute, spoke his first words in months when he said: "Blessed be the Lord!" As we work to build a culture of life, let us use their example of persistence in prayer. This battle will not be won without Christ and His Blessed Mother. Prayer will always remain our most valuable tool in fighting the culture of death.
It's also Election Day!
It's time to vote! Make your voice heard and show your children that you are doing your civic duty. Go vote! Then help your children learn to discern the difference between a moral and immoral vote with our lesson entitled Pro-Life Citizenship.
National Adoption Awareness Month
With younger children, read picture books about the beauty of adoption. With older children, explain how giving a child up for adoption is really a very selfless act. Make sure to discuss that every child is unique and unrepeatable. Check out our blog "8 Books and Movies to Celebrate National Adoption Awareness Month." You can also talk about spiritually adopting a preborn baby and praying for him every day. We have a great Spiritual Adoption Activity Book for K-2nd graders.
It's too cold to go out, so watch a movie tonight! We have a list of some great ones that are not only appropriate for families, but that have pro-life themes. Check out our list of free movie discussion guides at culture-of-life-studies.myshopify.com/collections/movie-discussion-guides.
2 days to thank veterans!
Show appreciation for those brave men and women who put their lives on the line so that we may enjoy the freedoms we have in the US. Freedom of speech is paramount to helping protect the dignity of human beings at all stages of development, and without the courage of our armed forces we would not enjoy those freedoms. Here are two days in a row when you can let those in our armed forces know you appreciate their defense of our freedoms.
November 10 is the Marine Corps birthday. Do you have a special Marine in your life? Send this person a text saying "Ooh rah!" and thank him/her for serving our country. Post the eagle, globe, and anchor on your FB page. Maybe your neighbor was a Marine. Make her a special cake or cookies. Help your favorite Marine feel valued.
November 11 is Veterans Day! Help your children understand the sacrifice that all of our men and women in uniform (and their families!) make on a daily basis in order to keep us safe and protect our freedoms. Thank the veteran in your life. And remember always to thank veterans you see out in public. Say some prayers as a family for those currently in harm's way.
2019 Pro-Life Essay Contest
The 2019 Pro-Life Essay Contest is open now until December 6. This is a great way to have your children in grades 3-12 voice their pro-life beliefs. Win cash and pro-life gear! Visit prolifeessay.com for details.
November 13
World Kindness Day!
We should be kind every day, of course, but take some extra time today to do something special for someone you have a hard time getting along with. Being pro-life means we see the dignity and value in all human beings.
Thanksgiving is near! Start collecting dry and canned goods to donate to a food pantry. Have your children help you choose appropriate ones at the grocery store. Pro-lifers are often accused of not caring about people who are already born. We know nothing could be further from the truth. Now is a good time to let that pro-life light shine. Add little cards to your food pantry items that remind those who will receive them that they are loved and valuable.
Advent Prep
Advent begins soon! Need pro-life themed lessons? We've got you covered. We have four incredible lessons that are perfect for Advent.
Also, check out some previous blog posts on Advent for some free ideas.
November 27:
Feast of Our Lady of the Miraculous Medal
Read the story of the Miraculous Medal with your children. Print out and color this free coloring page. Any feast of Our Lady is a good reminder of the important role she plays as our mother and the mother to all, including moms who enter abortion clinics and babies who die there. Say the rosary with your family with a focus on ending abortion through her intercession. Better yet, join the Marian Blue Wave—a new rosary initiative started by American Life League.
Living a Pro-Life Lifestyle:
Write thank-you notes to moms who chose life. Then give the cards to a local pregnancy resource center to distribute.
Building a culture of life begins in the home and in your family. In order to be as close as you possibly can to Christ, so that you can do His work, you must not have the stain of mortal sin on your soul. Advent is the perfect time to go to confession. As we prepare to welcome the Christ child, we want to be as holy as possible. Go to confession as a family. Help your children (young and old) prepare by teaching them to do an examination of conscience and reminding them of the Act of Contrition.
Volunteer to serve a Thanksgiving dinner at a pregnancy resource center, a soup kitchen, or a homeless shelter.
Bake some goodies or go shopping for some personal items and take them to a nursing home to distribute. Then sit and chat with some residents and tell them you are thankful for them. Read our blog post on visiting nursing homes for tips to make the experience enjoyable for all.
Write a thank-you note to your priest for all he does for you and the parish. Priests need our support and prayers so they will have the courage to stand in defense of human life at all stages of development.
November 30:
The Feast of Andrew the Apostle.
Read about how St. Andrew helped build a culture of life by preaching the good news of Christ throughout the world. Discuss ways that you can be like St. Andrew as you live out the gospel of life.
To put on your calendar for next year:
November 1:
All Saints' Day! Go to Mass! It's a holy day of obligation.
Read about saints who embraced pro-life lifestyes. Then discuss how you can emulate these holy men and women to build a culture of life in your homes and communities.
Here are a few to get you started:
November 2:
All Souls' Day!
As a family, pray for friends, family, or people in your community who have died.
November is Prematurity Awareness Month. Explain to your children that, when babies are born too early, they must spend many weeks or months in the hospital. This can be extremely stressful for the parents. Create cards for families who have children in the NICU and take them to your local hospital to help brighten their day. Say an extra prayer as a family for these tiny babies to get strong and go home.